KDJ Convention Center | Access | About Gwangju
---
All conference activities, including registration, will take place at the Kim-Dae-Jung Convention Center
Website: http://www.kdjcenter.or.kr/eng/
Address : KDJCENTER, 151 Sangmoo-Pyeonghwagil, Seo-gu, Gwangju, KOREA
Tel : +82-62-611-2000
Fax : +82-62-611-2009
Gwangju is well connected by plane, high-speed train (KTX) and express bus, with Seoul, Incheon, Busan and all other major cities easily accessible within a day's trip.
Accessibility to Gwangju from Incheon int'l. Airport

Route 1. Train (KTX)
- Take the KTX train at Incheon International Airport station to get to Gwangju-Songjeong station.(or Gwangju station)
※ We recommend Gwangju-Songjeong Station, which is the nearest Station to the KimdaeJung Convention Center.  
- Travel time : 130 minutes (after April. 2015)             
- Reservation : http://info.korail.com/

Route 2. Airport limousine bus
- Limousine buses operate starting at 05:00 through 01:00 the next day between Incheon Airport and the Gwangju Bus Terminal
- Frequency : every 30~50minutes
- Travel time : 230 minutes (340 km)
- Reservation : www.kobus.co.kr/web/eng/index.jsp

Route 3. Domestic Airplane
- From Incheon international Airport
: Take an airport bus from Incheon International Airport to get to Gimpo Airport
- From Gimpo Airport
: Domestic airplanes operate from 07:00 to 20:20 between Gimpo Airport and Gwangju Airport.
- Travel time : 40 minutes
- Reservation : www.airport.co.kr
Approx. Travel Times to Kimdaejung Convention Center
Gwangju airport

KTX Station
(Gwangju Songjeong)

KTX Station
(Gwangju)

Bus Terminal
(U-square)

Muan International Airport

10 min.

15 min.

25 min.

15 min.

40 min.

1 stop by subway

3 stops by subway

7.5 Km

5 Km

50 km
Airport, Train Station, Bus Terminal ↔ Kimdaejung Convention Center
Airport (3.6Km away)
Taxi: Takes 10min., Costs approx. 5,000 won
Bus: Take the airport bus #1000 and get off at Kimdaejung Convention Center, Costs 1,200 won
Subway: 1 stop (Airport → Kimdaejung Convention Center), Costs 1,200 won
Train Station (6.2km away)
Taxi : Takes 15min.,Costs approx. 7,000 won
Subway: 3 stops (Gwangju Songjeong Station → Kimdaejung Convention Center)
Bus Terminal (U-Square)
Taxi : Takes 15min, Costs 7,000won 
Bus : Take bus #01 or #518 and get off at 5.18 Liberty Park
                         Take bus #38 or #64 and get off at Kimdaejung Convention Center, Costs 1,200 won
Gwangju Subway map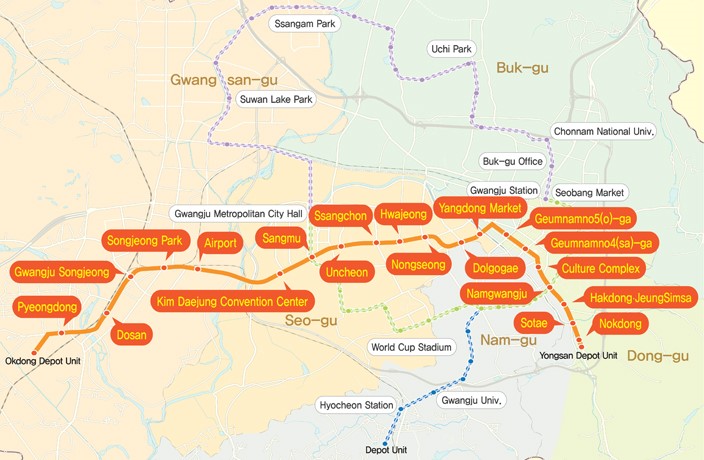 Kimdaejung convention Center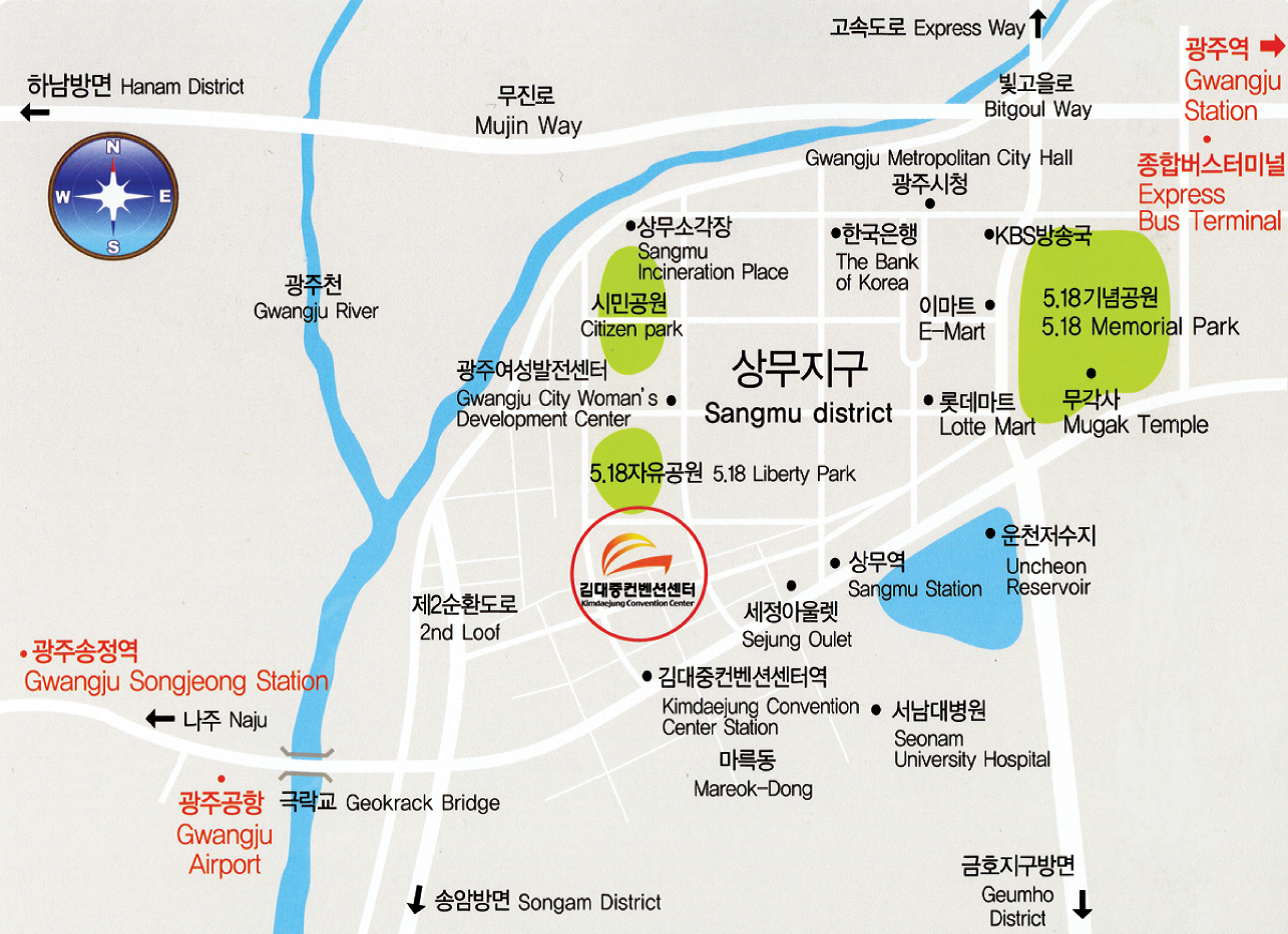 Hub City of the Southwestern Region of Korea
Gwangju is the leading city of the Honam region, with the entire nation within a day's reach. The emerging importance of Korea's western coastline and the government's effort to balance growth across the nation have triggered large-scale urban development projects such as the construction of the Gwangju hi-tech industrial complex, transformation of Gwangju into a center of production, and improvement of housing and leisure facilities. Such support will boost Gwangju's status as the hub of Korea's southwest region.
City of Patriotism
During the seven-year-long Japanese invasion of Korea beginning in 1592, Gwangju successfully defended itself against the invaders. Such a tradition, where citizens fought bravely during our nation's crises, has continued throughout history. Citizens sacrificed their lives during the Japanese invasion in 1592, fought against the colonialist Japanese rule in the early 1900's, and again lost many lives during the May 1980 democratic movement in defense of justice, democracy, human rights and freedom. Gwangju is campaigning to designate May 18 as a national holiday, and completing the effort to designate the May 18 Cemetery as a shrine in homage to the lives sacrificed, to continue its tradition of defending democracy, and to establish its position as part of the democratic history of the world.
City of Culture and the Arts
Gwangju has long been regarded as a city rich in culture and the arts. It has produced numerous scholars renowned for their scholarship and virtue. Gwangju is also where the Southern School of Chinese Painting, or Namjonghwa, as well as pansori, a traditional Korean singing genre, originated. The level of artistic sophistication is higher than most any other region, with a large proportion of the population involved in the arts field. The humble nature of the people who do not pursue worldly gain has enabled legions of people to enjoy art, dance and music over the years. The Gwangju Biennale, an international arts festival first held in 1995 and taking place every two years, has expanded Gwangju's worldwide reputation as a city of art.
Traditional City of Education
The home of numerous renowned scholars, Gwangju has 584 schools, consisting of 235 kindergartens, 136 elementary schools, 79 middle schools, 61 high schools, 7 junior colleges, 9 universities, 49 graduate schools, and 8 others (as of April 1, 2005) with a total of 415,774 students, or 29.5% of the total city population. The average number of students per household (0.86) reflects the city's characteristic as the home of education.