Conference Venue
The conferences will be held at the Birmingham City University.
Directions: http://www.bcu.ac.uk/about-us/maps-and-campuses/millennium-point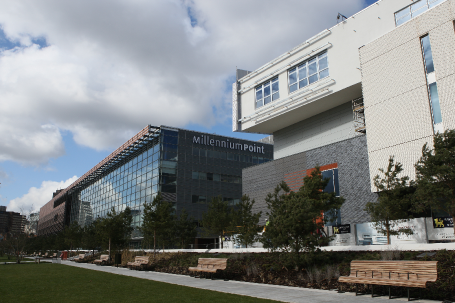 Travel to the UK
Greetings from Birmingham to all colleagues attending the CISIS 2014 and IMIS 2014 conferences bein held at Birmingham City University. We look forward to welcoming you to the UK and Birmingham and we hope you enjoy our city which has much to offer both from historical and modern perspectives with excellent shopping, entertainment, and world culinary options. We have set out below a brief introduction to the travel options for both international travel and within the UK a.d Birmingham City Centre.

The potential travel options to and within the UK are great and the following a very brief introduction to the potential options based on personal experience. If registered colleagues have any specific queries we would be pleased to assist where possible; please contact me at: ptmbcu@gmail.com / drptm99@yahoo.co.uk
Travel to, and within the UK can be achieved using a wide variety of modes of transport. We provide a brief introduction below with useful links where detailed information may be found. We have provided the information in 3 sections: (1) international travel to the UK, (2) national travel within the UK, and (3) local travel within Birmingham city center.
International Travel
International travel can be by two methods: (1) air travel, and (2) rail.
Air Travel: There are multiple airports to which international flights fly. The principal airports are:
Travel by air can generally be considers from the point of departure: (1) from within Europe, and (2) From outside Europe.
Travel Within Europe
From within Europe there are many airlines including international carriers and low-cost airlines which, depending on the departure point, fly into all the airports listed. For international travel from outside Europe the airports swerved by direct flights are generally the London airports and Manchester. Again, all the international carriers provide services to one or all of the London and Manchester airports.
Travellers from Europe may consider travelling to the UK using the Eurostar (http://www.eurostar.com/uk-en). This service is particularly useful for travel from France (Gare du Nord) and Belgium however it will involve changing trains in London. I have little experience of this service however it will involve immigration clearance as the UK is not party to the Schengen agreement (http://en.wikipedia.org/wiki/Schengen_Agreement).
International Travel from Outside Europe
In our experience gained from travelling to many international conferences in the USA, Europe, and the Far East we would recommend that delegates consider flying into Birmingham airport. While there are no direct flights to Birmingham airport there are services which connect to European hubs: for example (1) KLM (http://www.klm.com/home/gb/en) fly from Amsterdam, (2) Lufthansa (http://www.lufthansa.com/uk/en/Homepage) fly from Munich and Frankfurt, and (3) Air France (https://www.airfrance.co.uk/) fly from Paris. The connection time from these airports is around 1 to 1½ hours. A further option is to fly with Emirates airlines (http://www.emirates.com/uk/english/index.aspx); while this service flys to Birmingham airport the hub used is Dubai and the time from Dubai to Birmingham is around 7 hours which we have found to be a long trip following an 8 hour flight from Honk Kong.
On balance we consider the best options are to fly into Birmingham or London Heathrow.
National Travel within the UK:
For onward travel from all the airports (including Birmingham airport) to Birmingham City Centre we recommend travelling using National Express (http://www.nationalexpress.com/home.aspx) . National Express operate direct coach services which travel directly into the center of Birmingham arriving at Digbeth Coach Station in Birmingham City Centre. From the coach station the hotels are locate a relatively short distance.
For travel from Birmingham airport to Birmingham City Centre we recommend using National Express (http://www.nationalexpress.com/home.aspx); the travel time is around 20 minutes to Birmingham City Centre. An alternative is the use of a taxi however this can be very expensive. There are Coach stops and taxi ranks convenient to the arrivals at Birmingham airport and on the return journey the drop-off point is close to the departures.
An alternative form of transport is to use the railways. From London airports this will involve travelling into the center of London and changing trains for a direct service to Birmingham New Street Station. Details of serves are available at: (http://www.nationalrail.co.uk) where routes, times, and fares can be found.
Local Travel within Birmingham City Center.
Birmingham is in the center of England – the following map shows the location in relation to London: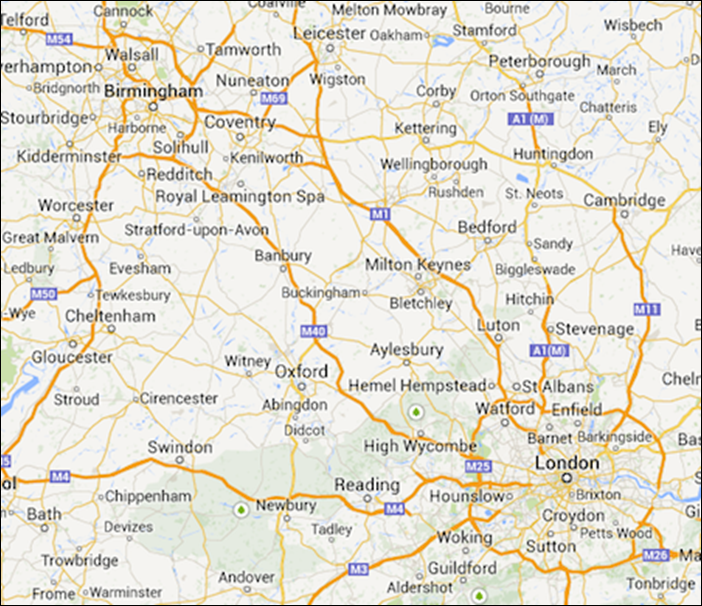 Birmingham is the second largest city in the UK however the City Centre (where the transport hubs, shopping, banks, the venue, the hotels, and the majority of the attractions, bars, pubs, and restaurants are located) is a very compact area and all the facilities and the venue are within comfortable walking distance. For a map of the City Centre see the following map: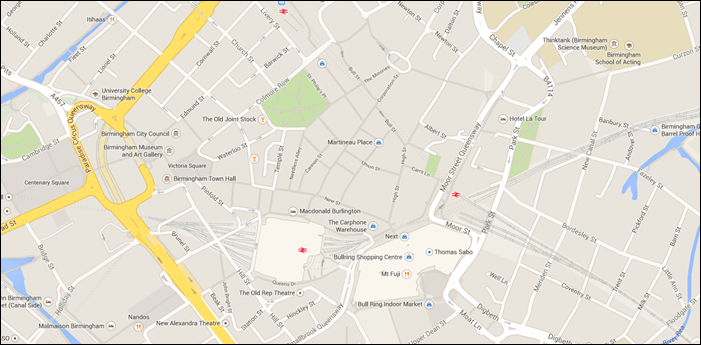 As can be seen all the attractions and facilities are conveniently located. A detailed map of Birmingham will be provided in the Delegate pack on registration.
If delegates wish to travel to attractions outside the city center there are very many bus services (also operated by National Express) (see: (http://nxbus.co.uk/west-midlands/) for details) and railway services (see: (http://www.nationalrail.co.uk for details).